With super Tuesday just one day away, we are asking for American citizens to consider voting for Rick Santorum. Mr. Santorum is the ONLY remaining candidate who is TRULY Pro-Life. Not only does he say that he is against the murder of babies in our country, but as president he will back up his words with actions, which is more than any of the other candidates can say. ( By the way, the Declaration of Independence says that "We hold these truths to be self-evident, that all men are created equal, that they are endowed by their Creator with certain unalienable Rights, that among these are Life, Liberty and the pursuit of Happiness." ) Saying that he is Pro-Life and then passing the issue on to the states does NOT make Ron Paul Pro-Life. How can Mr. Paul call himself Pro-Life and then let it up to individual states to determine the issue? If some states choose abortion, babies still get killed.
Our country needs a leader who will actually back up their words with action.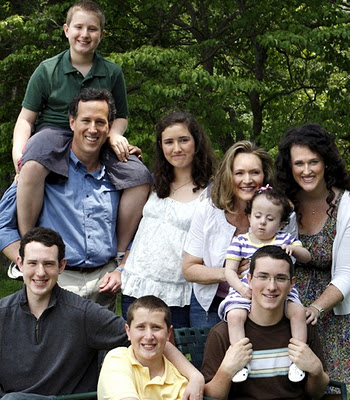 Santorum believes in life, marriage, and strong family values.
Tomorrow is an opportunity to vote for a man who has consistently supported the most important issue out there – protecting the unborn child. Not only has he voted against abortion but he has also supported bills that offer assistance for mothers, tax credit for adoption, abstinence programs, & much more. Here is a list of bills that he has supported, sponsored, & co-sponsored:
In the U.S. Senate, he authored two of the priority pro-life efforts that were signed into law by President George W. Bush – the Partial Birth Abortion Ban Act and the Born Alive Infants Protection Act. He cosponsored and strongly supported numerous other bills that defended unborn victims of violence, ensured state laws on parental consent are observed by neighboring states, and championed legislation to protect the conscious rights of individuals and health care providers so they need not choose between their work and their moral principles. He steadfastly opposed the federal funding of abortion and supported President Reagan's Mexico City Policy (abandoned by President Clinton and President Obama) that kept U.S. taxpayer dollars from going to organizations that perform or promote abortion overseas.
Recognizing that many women who consider abortion do so because they don't believe they have the support necessary to care for their unborn children, he supported bills to provide funding to the nonprofit organizations that help pregnant women in need and their children. As a member of the Congressional Coalition on Adoption, he supported the expansion of the adoption tax credit to make adoption more affordable to parents across the country. He supported programs for the vulnerable children and youth in our foster care programs.
On the important bioethics issues facing the nation, he stood firm on his principles of prohibiting federal funding from being used for the exploitation and destruction of human embryos for scientific purposes while he sought to advance adult and other non-controversial stem cell research to aid in the fight against disease.
Partial Birth Abortion Ban Act

(Sponsor – signed into law in 2003) – Over several Congresses, he was the Senate author and champion of this bill to ban partial birth abortions.

Born Alive Infants Protection Act

(Sponsor – signed into law in 2002) – This bill ensured appropriate care is provided for those infants who survive an abortion

.

Unborn Victims of Violence Act (

Co-sponsor – DeWine) – This bill, signed into law in 2004, made it a federal offense to injure or kill a fetus while committing a federal crime.

Informed Choices Act

(Co-sponsor – Bunning) – This bill would have provided grants to non-profit organizations to purchase ultrasound equipment and provide free examinations to pregnant women.

Child Custody Protection Act

(Longtime cosponsor and supporter of this Ensign bill and similar efforts) – This bill would prohibit individuals from taking minors across state lines for abortions in order to avoid state parental consent laws.

Unborn Child Pain Awareness Act

(Co-sponsor) – This bill required abortionists to inform women having an abortion that studies show that the unborn child feels pain during an abortion performed after 20 weeks of pregnancy and give her the opportunity, should she choose to continue the procedure, to allow the child to be treated for that pain.

Workplace Religious Freedom Act, Abortion Non-Discrimination Act, and Health Care Entity Protection Act

(Sponsor and Co-sponsor) – These bills, respectively, would protect the individual conscious rights of individuals to not participate in procedures they believe to be morally wrong and prevent health care entities from being discriminated against in receiving Federal or State funding because the entity refuses to provide coverage of, or pay for, induced abortions.

RU-486 Suspension and Review Act and RU-486 Patient Health and Safety Protection Act

(Co-sponsor) – These bills, respectively, would have withdrawn the approved application of the drug RU- 486 and allow for a review of the process by which the Food and Drug Administration (FDA) approved the drug and would require the FDA to establish restrictions regarding the qualifications of physicians to prescribe the abortion drug commonly known as RU-486.

Voiced concerns to the Bush Administration about the impact of making the Morning After Pill available without a prescription to youth and asked for the Administration to research the potential harmful effects of abortion on the women who have them.
Women and Children's Resources Act

(sponsor – 1999) – This bill was intended to link women to a network of supportive organizations who are ready and willing to offer assistance in the form of pregnancy testing, adoption information, prenatal and postpartum health care, maternity and baby clothing, food, diapers, and information on childbirth and parenting. Women could also have received referrals for housing, education, and vocational training. Low-income women would have been given priority for these services.

He also sought to work with the Executive Branch to support of these important efforts through established programs.

Elizabeth Cady Stanton Pregnant and Parenting Student Services Act

(cosponsor) – This bill would have provided grants to institutions of higher education to establish student services offices for pregnant students, parenting students, prospective parenting students anticipating a birth or adoption, and students who are placing or have placed a child for adoption.

Informed Choices Act

(co-sponsor) – This bill would have provided grants to non-profit organizations to purchase ultrasound equipment and provide free examinations to pregnant women.

Strongly supported funding of

abstinence education programs

that informed and helped teens make the best choices for a fulfilling and productive life.
Supported legislation to

extend and expand the Adoption Tax Credit

, making adoption more affordable to thousands of families.

Supported Promoting Safe and Stable Families Initiatives programs.

These programs are designed to help the most vulnerable children be safe, healthy, and find a permanent home, including supporting families who adopt children from foster care. They also help teens aging out of the foster care system without having been adopted to make a successful transition to productive, independent living by providing services such as education, job training, life skills training, and housing help.

As a member of the Congressional Coalition on Adoption,

he supported numerous international adoption efforts and recognized families across the Commonwealth as "Angels in Adoption" for the steps they had taken to personally care for vulnerable children.
If you want to know more about him you can visit his website at www.ricksantorum.com.